We ran an information campaign to inform residents in detail and well in advance about the construction of a substitute fuel plant in Sachsen (Elsterberg). Billboards in the city centre, direct mail marketing and PR were all utilised to engage stakeholders and anyone affected by the issue in a dialogue.
Commissioning client: ENKA International GmbH & Co. KG
COMMUNICATION
No project is possible without communication. Communication that is effective and works well between all parties is much more than this: it is the key to success. Good performance needs to be successfully communicated, which requires a compelling marketing strategy and targeted press publicity.
From concept to corporate design, print or website to campaign and participation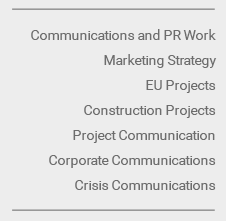 CONVIS offers both project and corporate communications services, develops internal and external communication strategies, designs customised communications activities and executes them successfully from start to finish.
Our strengths in the field of communications and PR work include construction projects on the one hand and, on the other hand, projects funded by the EU, which are aimed at sustainable, ecological and social growth.
Strategic creativity and a love of communication
We have a valued tradition of communicating as equals, whether it is within our company, on a project, with our clients, or with the wider public.
We combine meticulous planning, reliability and trust-based cooperation with a love of creativity and a willingness to embrace new challenges and work together effectively as a team. Thanks to our many years of experience and our wide-ranging spectrum of services and offerings, we can act, react and communicate appropriately at each stage of the project. We address everyone from their standpoint and take the wishes, requirements, concerns and fears of all stakeholders seriously.
Sample projects
Did you know that you can register your business online too? There is a single point of contact organisation (EA) in Berlin that not only supplies information for business professionals, but also curtails the administrative procedures. You can find out more about how this works via a short video clip on our newly redesigned website.
Our marketing strategy also covered postcard marketing and advertising campaign, as well as the overhaul of the EA website.

Commissioning client: Senatsverwaltung für Wirtschaft, Technologie und Forschung [Berlin Senate Department for Economics, Technology and Research]