Project Management by CONVIS
Organisation, Information, Coordination and Documentation

Qualities and Quantities

Costs and Financing

Deadlines, Capacities and Logistics

Contracts and Insurance

BIM Management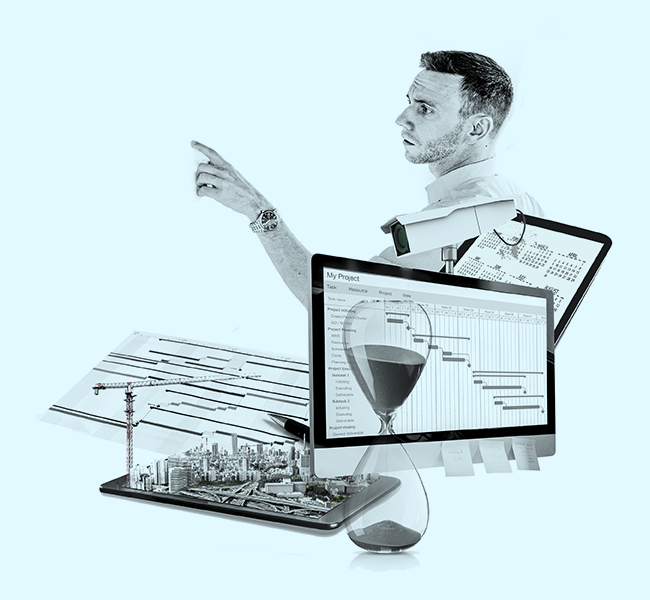 Project management

sets the course for a project's successful conclusion. An experienced project manager who, like CONVIS, is an expert in all phases of project planning, is a reliable guarantor of success. You can rely on us to take care of all areas of activity encompassed by project management. We have a very broad range of specialist knowledge. We can, therefore, not only see the bigger picture but also evaluate what is fuelling it.
CONVIS takes on the project management of construction projects (also using Building Information Modeling) and organisational projects such as, for example, the company-wide adoption of software solutions. It also provides project management for communications and marketing campaigns.
---
A high degree of transparency over the entire course of the project
We plan thoroughly and we plan ahead. Our maxim is 'prevention before reaction'. We focus on generating solutions at all times. If issues arise, resolving them is our top priority. We think that an appropriate error management culture is as important as ensuring a high degree of transparency over the entire course of the project. This requires specialist expertise, but also calls for diplomacy. As project managers we resolve conflicts, moderate, unite all parties and, where necessary, we also set clear boundaries.
For each project the commissioning client has a clear objective in mind, but the path towards it is often fraught with obstacles. CONVIS develops a customised strategy for each project. This allows it to succeed in uniting everyone in achieving the same objective. This success is not due to "tearing up" the rulebook on project management, but stems rather from experience, communication and empathy.
CONVIS software tools for efficient project management
CONVIS has developed software tools that operate in Microsoft SharePoint® and Oracle APEX® environments, acting as project management aids. Our clients use and value this IT support because it makes the projects more efficient and transparent. The CONVIS.works software for logging and task control has already won the Innovation Award at the ORACLE Database Awards.
---
Memberships